Seraphim Blueprint
The Power of Angel Healing
Available Online Classes
 – Seraphim Healing level 1
– Seraphim Sacred Geometry level 2 
– Seraphim Manifestation level 3
– Seraphim Cosmic Splendor level 4
 – Seraphim Planetary Healing level 5 
– Seraphim Grace & Union level 6
Available Seraphim Blueprint Advanced Classes
– Seraphim Healing Advanced 
– Seraphim Aqua Dynamics
Private Seraphim Blueprint Classes
with Michelle Sclafani Tolson
Michelle is an experienced Seraphim Blueprint Teacher; her classes are filled with transformational information to assist you on your spiritual journey.
She shares from her spiritual toolbox, which includes how Seraphim Blueprint helped her turn herself from a struggling empath to an Empath Healer.
 Seraphim Blueprint Classes changed the quality of Michelle's life, she was Divinely guided to become a Seraphim Blueprint Teacher so she can share these energies worldwide.
What is Seraphim Blueprint?
 Seraphim Blueprint is a cosmological collection of energies that are permanently stored in the ethers.
There were originally thirteen Seraphim Angels that created this Angelic healing system, one of the original thirteen angels will give out these energies in a specific sequence that harmoniously integrates with our nervous systems.
The system includes 11 major energies that synergistically interact to enhance our life-force energy and well-being. Each major energy has its own purpose and distinct quality that together provides a unique evolutionary pathway for Self-Realization.
The energies are safe and intelligent and are pre-programmed to ideally adapt to our unique life situation and physical condition. They work on all levels of our physical, emotional, mental and spiritual bodies.
Seraphim Blueprint level 1 Seraphim Healing heals us physically and emotionally, laying the foundation for spiritual growth. 
The first two powers are for healing one-self and others. Being initiated into these energies allows for a sense of greater internal union and a stronger immune system.
Seraphim Blueprint
Level 2 Sacred Geometry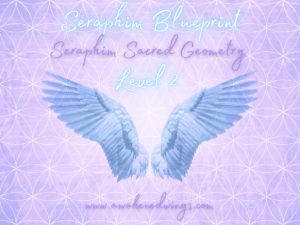 Seraphim Blueprint level 2
 Sacred Geometry is about breaking down karmic boundaries that limit our accomplishments in this lifetime. The key energies enhance rapid evolution. One is the supreme organizing power of the universe, and the other is the power to progressively remove karmic limitations
*Completion of Level 1 Required*
Seraphim Blueprint
Level 3 Seraphim Manifestation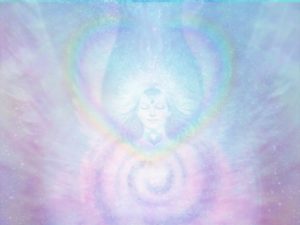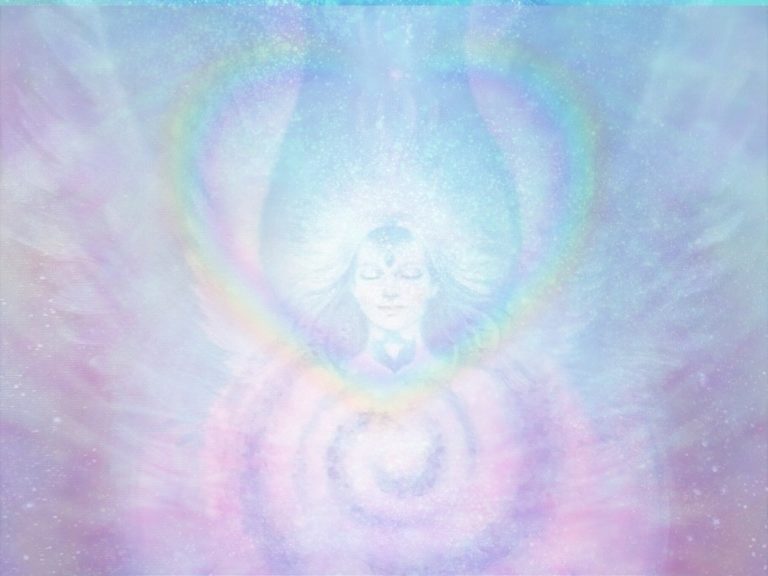 Seraphim Blueprint Level 3 Seraphim Manifestation helps us to more quickly achieve our personal desires as well as cosmic purpose. Receiving fulfillment on a personal level allows us to aspire to higher goals. The two key powers promote intent, willpower and wish fulfillment.
*Completion of Levels 1 & 2 Required*
Seraphim Blueprint
Level 4 Seraphim Cosmic Splendor
Seraphim Blueprint level 4 Cosmic Splendor helps us to adjust to the real cosmic forces that our bodies experience as our planet hurls through space at thousands of miles per second. 
This level maximizes the use of the physical vehicle to the expanding universe. Our individual bodies are holographic pieces of the entire universe. 
One energy repairs the damaged parts in our holographic etheric bodies, and the other helps us to adjust to an expanding universe.
*Completion of Levels 1 – 3 Required*
Seraphim Blueprint
Level 5 Seraphim Planetary Healing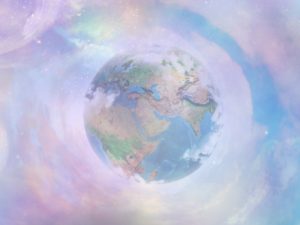 Seraphim Blueprint level 5 Seraphim Planetary Healing gives us tools to communicate with non-physical beings who can partner with us to help this planet in its many transitions.
This energy brings humanity into balance with the natural order. Specific initiations include harmonizing with elementals and vibratory beings.
*Completion of Levels 1 – 4 Required*
Seraphim Blueprint
Level 6 Seraphim Grace and Union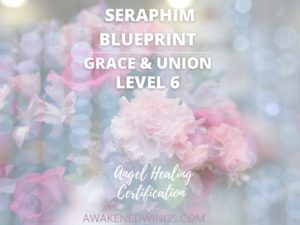 Seraphim Blueprint Level 6 Seraphim Grace & Union – Once we have cleared out the heavier dross that we have accumulated over lifetimes, we begin to feel a real need to absorb beauty in our environment, and feel closer to Source. The energies in this workshop facilitate that process.
*Completion of Levels 1 – 5 Required* 
*Level 6 is a Two Day Class* On the first day we will schedule the second part of class*
Seraphim Blueprint
Seraphim Aqua Dynamics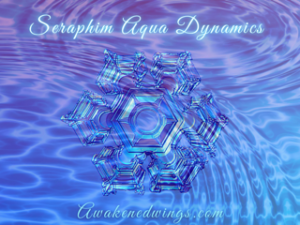 Seraphim Blueprint – Advanced Class Seraphim Aqua Dynamics
This course works directly with every water molecule in our bodies. Our bodies consist of about 66% – 75% of water, by mass or volume. Since water molecules are tiny, this translates to them making up 97% -99% of all molecules in our physical bodies. Water is a crucial part of all our bodily processes.
Structured water molecules are hexagonal, which reminds us of snowflakes, which reminds us of Seraphim Angels which are described as having six wings. We also find hexagonal expression in quartz crystals…
The Seraph says that Seraphim Angels are etheric light, water is etheric light, water is liquid light and quartz is solid light. They are linked together by Sacred Geometric connection.
This course more deeply explores this topic. Seraphim Aqua Dynamics includes initiations into a new healing energy spectrum that can be used for self and others, distantly or hands on.
*Completion of Levels 1 – 3 Required*This is a two day class*
Seraphim Blueprint
Seraphim Healing Advanced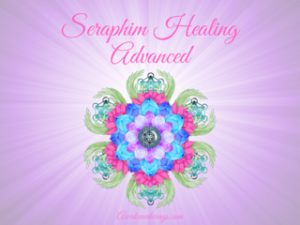 The Seraph of the Seraphim Blueprint helps us in this course to gain deeper access to the Life Force and the Divine Harmonizing energies. 
The enhanced initiations strengthen our connection to the Seraphim Blueprint, and help us to embody frequencies that increase our ability to respond with individual solutions. 
One can choose to use only Seraphim Blueprint energies, or utilize them with other modalities.
This course also significantly increases the power of the original initiations in Level 1 to help one easily find your optimal energy mix. 
Connections to supportive beings from the non-physical planes will be further enhanced. This leads to faster intuitive understanding of what we and others need most. 
*Completion of Seraphim Blueprint levels 1-3 Required* 
Seraphim Blueprint
Angel Healing
Package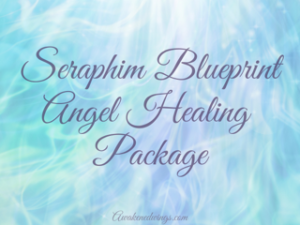 8 classes for the price of 7
Package includes Seraphim Blueprint Private Classes
Levels 1-6, Seraphim Healing Advanced & Seraphim Aqua Dynamics
Classes Offered Online Via Zoom